We want to inform you that from February 28 through March 9 predicted sun outages will affect some of our cable channels. These outages are caused by a phenomenon called a "solar satellite interference." These brief outages occur when the sun passes directly behind satellites transmitting cable signals. When the sun is aligned with a satellite, solar radiation, an energy the sun is emitting, interferes with the satellite's signal and thus causes a brief signal outages. This may manifest itself in a temporary disruption of services and/or pixelization.
---
These are the predictions for GMT and MST zones.  Precise info for your area can be determined by visiting https://www.satcomresources.com/tools/sun-outage.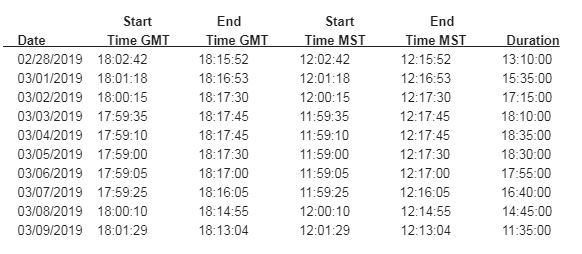 ---
Additionally we want to inform you that the uplink site for Outdoor Channel, Sportsman Channel and World Fishing Network is conducting generator maintenance on Monday, March 4, 2019, April 1,2019 and May 6, 2019 from 10:00am MT to 11:00am MT. We do not anticipate any impact to channel services during these maintenance operations. In the event you experience any defect with our Network signals please let us know as soon as possible.